Diamond Jubilee celebrations in Northamptonshire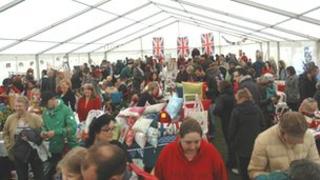 People in Northamptonshire have been marking the Queen's Diamond Jubilee celebrations by holding events across the county.
Despite the wet weather, hundreds of people attended the county's main event at Delapre Park.
The Big Jubilee Picnic on Sunday celebrated foods, fashions and music of the Queen's 60-year reign.
There were also street parties in the county, and many care homes held special lunches.
'Great opportunity'
A church service took place at All Saints Church in the centre of Northampton arranged by the Lord-Lieutenant of Northamptonshire, Lady Juliet Townsend.
She said: "As the representative of the Queen I've tried to go to a wide selection of events that the Queen would go to. I have tried to be at 10 places every day."
At the end of the service Lady Townsend awarded The Queen's Commendation for Bravery to Anne Timson, who foiled a robbery in the town centre in 2011.
At Daventry Country Park, a number of musicians performed in the rain to a determined crowd.
Patrick Guy from Foxhills Music School said he had spent three days setting up the stage for the event on Sunday.
"This is one of the biggest events that we've staged here. It has been a great opportunity for the musicians to raise their profile," he said.
See all the latest Diamond Jubilee news and features at bbc.co.uk/diamondjubilee