Northampton's 'supergran' given Queen's bravery award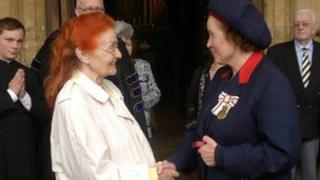 A 71-year-old woman who foiled a jewel robbery in Northampton has received a special honour at a service marking the Queen's Diamond Jubilee.
"Supergran" Ann Timson, who foiled a robbery in 2011, received The Queen's Commendation for Bravery from Lord-Lieutenant Lady Juliet Townsend.
The presentation was made when she was asked to attend the Jubilee service at All Saints Church in Northampton.
She said it was a great honour to receive the award at the service.
Five men were jailed after film was shown in court of Mrs Timson, a retired market trader, running up Gold Street past other shoppers after spotting a raid on a jewellery store.
Swinging her handbag, she was seen to hit one of three men sitting on scooters before turning her attention to the three other men who were smashing the shop window.
All the raiders made off and footage of Mrs Timson's actions was posted on YouTube, turning her into a celebrity and earning her the nickname "Supergran".
After the presentation on Sunday she said that she was embarrassed by the label "Supergran" but would do the same thing again.
She said it was "a wonderful feeling" to receive the award of twin silver broaches each in the shape of a leaf.
More celebrations
Celebrations are continuing across Northamptonshire throughout Monday.
Marrion Baynham from Weldon has been made the village "queen" after winning a parish council competition.
She took part in the Jubilee celebrations which lead up to the lighting of beacons across the county.
To mark the beacon lighting across the East Midlands, church bells have rung out along the 65-mile length of the Welland Valley through Northamptonshire, Leicestershire, Rutland, Cambridgeshire and Lincolnshire.
The ringing began at Sibbertoft in Northamptonshire and end at The Wash.
Each of the 34 towers with bells along the valley have pealed for 20 minutes and the last will be in Fosdyke where the church bell will be rung 60 times to mark the lighting of the village's Diamond Jubilee beacon.
Residents have lit beacons in towns, villages and hamlets.
Among those celebrating are Wellingborough Council working in partnership with the Old Grammarians Sports Club.
Their beacon was sited at the Old Grammarians Sports field on Sywell Road.
See all the latest Diamond Jubilee news and features at bbc.co.uk/diamondjubilee.