Grosvenor Centre delays: Council seeks 'urgent talks'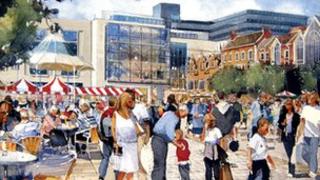 The future of a £250m redevelopment of a Northampton shopping centre has been thrown into jeopardy after the plans were withdrawn by its owner.
Northampton Borough Council said plans to develop the Grosvenor Centre in Northampton have been withdrawn.
Legal and General Properties (LPG) said the latest delays are the result of economic conditions which do not make the current scheme viable.
The Conservative-run council now wants urgent talks with the company.
Council leader David Mackintosh said: "It is very frustrating that the Grosvenor Centre project is being delayed yet again."
The authority agreed to knock down Greyfriars Bus Station for the extension of the centre in 2009.
"The borough council has done all it has been asked to do in support of the redevelopment scheme but now we hear that this has still not been enough." said Mr Mackintosh.
The company sent outline plans to the West Northamptonshire Development Corporation (WNDC) in March. Detailed plans were expected in November.
LPG said the plans will now be reviewed.