Water leak delays £30m Kettering General Hospital wing opening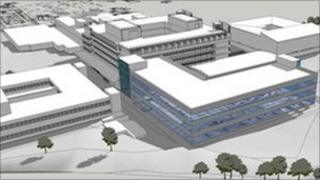 The opening of a £30m building at a Northamptonshire hospital has been delayed after a water leak caused "considerable" damage.
Kettering General Hospital's Foundation Wing was flooded over the Jubilee Bank Holiday by faulty pipe work.
Completion of the three-storey 76-bed building, due to be finished on 4 July, will be delayed by at least two months.
Contractors Inter serve said it had stopped building work for two weeks while an investigation was carried out.
Kettering General chief executive Loren Read said: "I am extremely disappointed and upset at this unexpected delay, so close to the anticipated handover date.
"I am advised by the contractor, Inter serve, that as a result of what appears to be faulty pipe work, the mains supply to the second floor burst which resulted in the building sustaining considerable flood damage."
Work began on the new wing which will also have a children's unit and an intensive care ward in December 2010.