Northamptonshire balloon crash pilot ignored warning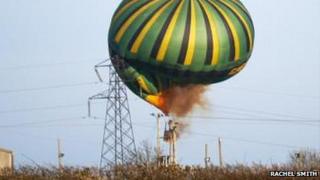 A pilot who crashed a hot air balloon in Northamptonshire failed to respond to warnings about the atmospheric changes, an investigation has found.
Adam Griffiths, 18, from Rushden, was carrying two passengers on 25 March when he hit power lines in Bozeat.
An investigation by the British Balloon and Airship Club said another pilot had warned him about turbulence, but he continued on the same path.
The report referred to the incident as an accident.
It said when the balloon had taken off the weather conditions had been good, but problems occurred when Mr Griffiths tried to land in playing fields on the far side of some power cables.
'Learning forever'
The report said a few minutes before the crash the pilot of another balloon, which was flying ahead of Mr Griffiths, called him to warn that he had experienced high wind speeds.
Mr Griffiths did not alter his flight path and continued to try to land in the fields.
The report said: "He quickly realised that the balloon would not avoid the wires so he turned off both pilot lights and took action to rapidly deflate the balloon to minimise the risk of the more vulnerable basket and burner lines contacting the power lines."
The balloon struck the lines and slid along them until it hit a pylon.
Witnesses alerted the emergency services but rescuers had to wait for more than five hours before beginning the rescue as they had to receive confirmation that the power was off. No-one was seriously hurt.
Mr Griffiths, who had 26 hours of flying experience at the time of the crash, told investigators that if faced with a similar situation again he would take a different course of action.
He said he would aim to modify his approach accordingly or seek a "more appropriate" landing site.
Don Cameron, from the British Balloon and Airship Club, said the case shows how important it is for hot air balloon pilots to have as much experience as possible of micro meteorology.
"It's something you go on learning forever," he said.