Northampton's fire hit Fat Cat bar 'to reopen in a year'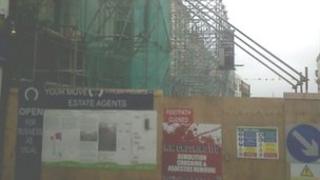 A Northampton bar gutted by fire six months ago will reopen in a year's time, managers have said.
The Fat Cat, in the Grade II-listed former Angel Hotel building, in Bridge Street, was forced to close following the New Year's Day fire.
Matt Saunders, the managing director of Fat Cat, said following an agreement with insurers a timetable was now in place for repair and refurbishment.
One trader said the reopening of the pub would make a "big difference".
Boarded up
Mr Saunders said: "We are half way through a 20-year lease so we will definitely be reopening.
"We would expect to be in within eight to nine months from now, which would give us three months for a refurbishment.
"It's a big rebuild, there was a lot of damage."
It is not known when the Balloon Bar, which was also damaged in the blaze, will reopen.
Its owners were unavailable for comment.
Confirmation of the Fat Cat reopening has been welcomed in the community.
Wilf Copping, who runs White and Bishop, an outdoor clothing company in Bridge Street, said: "At the moment the street is narrower because the building is boarded up, we don't get the same level of street traffic and the street cleaners can't get down there so we have cigarette butts outside.
"It will make a big difference when it reopens. It is a shame it can't happen sooner but at least we know it is going ahead."