East Northamptonshire council backs Sainsbury's plan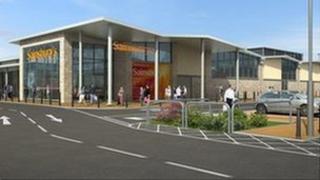 Plans for a new Sainsbury's supermarket on the last remaining cattle market in Northamptonshire have been given the go ahead.
The application to build a Sainsbury's in Thrapston was backed by East Northamptonshire councillors at a meeting on Wednesday.
Plans for an unnamed rival store on Bridge Street were rejected at the same meeting.
Those opposed to the Sainsbury's store said the wrong decision had been made.
Members of the Save Thrapston campaign group who opposed the scheme claimed the new Sainsbury's would put children at the school near the site at risk.
Mr John O'Leary, the head teacher of King John School near where the development will be built, said he was concerned at the plans.
Child safety
He said: "As the head teacher of the school I have duty of care for the safety of the children. Safeguarding them is a priority nationally but it doesn't seem to have come through in this decision.
"There are still 900 children going out on that one that road at morning and evening and other times of the day. While measures might be put in place, lorries and children don't match."
The group also said the plan would mean the end of the town centre shops.
A spokesperson for the group said: "How can the florist, delicatessen, butcher, baker, card shop and market trader compete with the buying power of Sainsburys? "
Robert Oxley, a spokesperson for Sainsbury's, said he was pleased with the decision but he accepted that improvements must be made to the road network.
He said: "We recognised the issues, we work very hard with the school and the residents nearby.
"We will continue to work with officers to make sure that improvements really do happen."
Sainsbury's said the store would create 150 jobs.