Wicksteed Park gets £1m to restore lake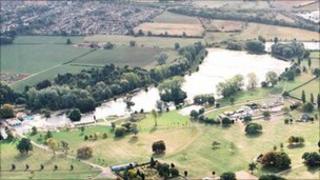 An amusement park in Northamptonshire has been given more than £1m to help restore its main lake.
Wicksteed Park in Kettering will get £1,046,900 from the Heritage Lottery Fund to dredge and deepen the lake and install new sluices.
The lake, which was used for regattas, was created just after World War I before the park opened to the public in 1921.
A 1924 lake shelter is also to be repaired and brought back into use.
Reed beds will be planted along areas of grass wetland to improve the biodiversity and wildlife habitats.
Oliver Wicksteed, from the park, said the restoration would encourage more people to enjoy the area.
Mr Wicksteed, chairman of the Wicksteed Charitable Trust and great grandson of the park's founder Charles Wicksteed, said: "I believe that these improvements and additions would be just the sort of things Charles Wicksteed would have carried out if he were still alive today."
Kettering MP Philip Hollobone said: "I know the park will put the funds to extremely good use for the benefits of local people."