Castle Fields bandstand restoration work begins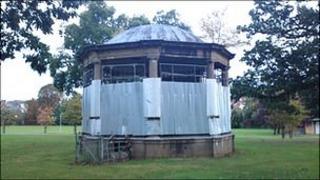 Work has started to restore a bandstand in a Northamptonshire park to its former glory.
The bandstand, built in 1913 and located at Wellingborough's Castle Fields, has been boarded up since 2008.
The structure had been repeatedly vandalised but campaigners from the local community fought to have it repaired.
The restoration has been paid for with £75,000 given to the borough council by developers who built houses nearby.
Councillor Paul Bell, leader of Wellingborough Council, said: "Restoring the bandstand is something that the community has wanted for a long time.
"It has been boarded up for too long and is an eyesore so we're really pleased that work has now started to restore it."
The council said it hopes the work will be completed by the autumn.