Karoly Varga killing: £10,000 reward offered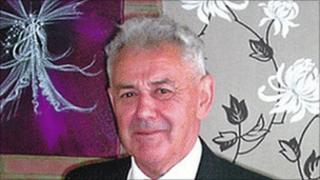 A £10,000 reward has been offered by the family of a man who was found dead at his home in Northamptonshire to help catch his killer.
Hungarian-born Karoly Varga, 76, was found dead at his house in Cannon Street, Wellingborough on 30 July 2011.
He had been struck a number of times with an axe-like weapon.
Elemer Patakfalvi, 47, who was charged with Mr Varga's murder, was released in June after the case was dropped by the Crown Prosecution Service (CPS).
The CPS said the prospect of a conviction was unlikely, resulting in the case being withdrawn.
Officers have re-released CCTV footage from the day of the murder, which shows a man entering the home of Mr Varga, also known as Charlie, in the hope that it would help trigger someone's memory.
'Blood stained'
Det Ch Insp Martin Kinchin, leading the investigation, said: "It is likely that Charlie Varga was killed on Wednesday 27 July 2011, some time after CCTV footage shows him letting a person into his house.
"We also know that Charlie's killer left via his back gate into Bell Street and Bell Court. That person had with them a small, potentially axe-like weapon and would have potentially been lightly blood stained.
"That murder weapon has never been recovered and potentially is still lying wherever it was hidden."
Det Ch Insp Kinchin added that the offender had been wearing Lonsdale training shoes at the time, that would have been bloodstained and could have been discarded.
Rita Groves, Mr Varga's daughter, said the family had put up the reward to encourage anyone with information to come forward.
"Our father was a kind man, who was no threat to anybody and we cannot understand why anybody would want to attack him in this way," she said.