Officials to learn from Silverstone car parking problems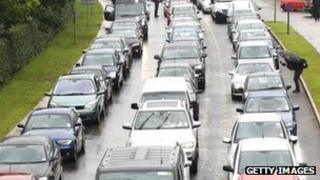 Officials at Silverstone have promised to "learn lessons" after heavy rain caused serious problems for spectators at the British F1 Grand Prix.
Many of the 120,000 race-goers faced long queues going into the circuit because of waterlogged car parks.
Up to 30,000 fans were told to stay away on Saturday and there were delays for people leaving on Sunday.
Managing director Richard Phillips said: "We are looking to put new plans into action for next year."
The race was won by Mark Webber from the Red Bull team.
'Extra capacity'
Mr Phillips said race day had gone well, adding: "I have to give credit to the local community and the fans who have been very resourceful and very supportive."
Silverstone said it invested more than £1m every year preparing and managing car parks and traffic.
The last time Silverstone had problems in wet conditions was in 2000 when the race was held in April and rain caused traffic chaos.
Improvements to the A43 and the creation of a one-way system over race weekends have addressed many of the traffic issues at events since then.
"We have learnt a lot of lessons over the weekend, these situations only happen every 10-15 years but we don't want to get ourselves into a situation like we had on Friday again," said Mr Phillips.
There were also problems on the camp sites around the Silverstone circuit where many people were turned away on Friday because of the wet conditions.
Mr Phillips added: "The camp sites need to be reviewed and we need to get extra capacity."