Body found in River Nene, Northamptonshire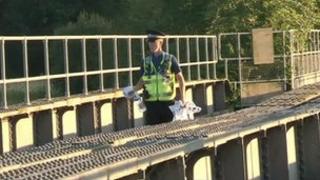 A body, believed to be that of a young male, has been pulled from the River Nene in Northamptonshire.
Northamptonshire Police said the body had been recovered from the Woodford Lock area, but had yet to be formally identified.
Witnesses said they had seen young people playing by the river during the day.
Police spokeswoman Kirsty Neeson said the constabulary was not treating the incident as suicide.
In a statement, Ms Neeson said: "Police, fire and ambulance today worked together following a report of a missing person in the River Nene in the Woodford area.
"Following a protracted search involving all agencies we can confirm that a body has been recovered from the water. Formal identification is under way."