Daniel McCullagh drowning: Father's river safety plea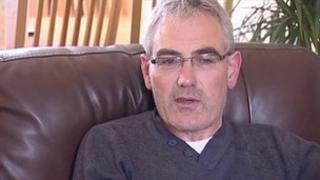 A father whose 15-year-old son drowned in a Northamptonshire river has called for safety improvements around waterways.
Gabriel McCullagh said he wanted to make sure "somebody does something" after his son, Daniel, was found dead on Tuesday.
Witnesses said Daniel was swept away by strong currents in Woodford Lock, part of the river Nene in Northamptonshire.
An investigation into the death is continuing.
Mr McCullagh said better warnings should be put up around rivers.
"The last thing I want to happen is to find out this has happened again because nobody has sat up and done anything about it," he said.
'Pulled downwards'
"That's why I want to make sure somebody does something."
Daniel went missing at around 15:00 BST on Tuesday. His body was found down river towards Denford just over three hours later.
"The day started really well for Daniel - it finished with me having to identify his body at hospital," said Mr McCullagh.
"That's something I wouldn't want anyone to have to do."
Pub landlord Tony Blyth, 51, entered the water in an attempt to find Daniel but found himself struggling with the "strong current"
"I swam to the point where he was but there was no-one there," he said.
"It looked lovely from the bank. It was only once I got in that I could feel my legs being pulled downwards."