Louise Mensch: New Corby candidate 'should be local'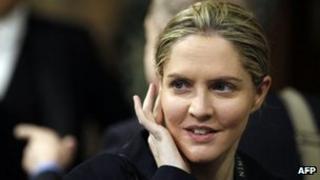 A Conservative MP has urged his party to find a candidate with "more local experience" to replace outgoing Corby MP Louise Mensch.
Mrs Mensch said she was standing down to spend more time with her family.
She moved to Northamptonshire after being put on David Cameron's "A list" in 2006, which aimed to provide more women and ethnic minority candidates.
Brian Binley, MP for Northampton South, said Corby needed an MP who knew the area well.
He said: "Louise sadly didn't have the sort of experience in the party that was traditionally expected, either by working in the voluntary sector locally or having worked as a local councillor."
'Extremely difficult'
Mrs Mensch, a successful novelist, won her seat in 2010 with a 1,951 majority.
She said she had decided to step down after finding it increasingly difficult to juggle family responsibilities with her political career.
David Sims, the leader of the Conservative group in Corby and Mrs Mensch's campaign director, said: "Personally I think someone local would be ideal but sometimes there are no local candidates who can do the job."
Mr Sims said the process for selecting a new candidate would begin shortly but no-one had been earmarked for the job yet.
He added: "Being an MP is an extremely difficult career. You've got to spend a lot of time in Westminister and your weekends are very busy attending to your constituents.
"Mrs Mensch's circumstances changed as time went on and things proved more difficult than what she thought originally."
The by-election is expected to be held on 15 November, the same day as elections for police and crime commissioners are held across England and Wales.