Northamptonshire motorists warned for taking crash photos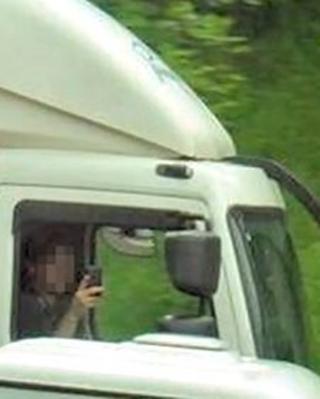 Eighty motorists in Northamptonshire are being warned by police after they were caught using phones to take photos of a road accident.
The drivers were spotted snapping pictures on the M1 when a 21-year-old woman was trapped in her car on 14 June.
The injured woman remains in critical condition in hospital.
Officers said they were "astonished" at the number of people taking pictures.
Sgt Nick Gray, from Northamptonshire Police, said: "The drivers showed a total disregard for the law and the devastation which would be caused to their own or another family in a fatal road traffic collision.
"Many of the drivers photographed would class themselves as 'professional drivers'."
While the other emergency services were working to free the driver, police officers noticed motorists on the opposite carriageway were taking footage of the scene on their mobile phones.
So they set up a camera to record the motorists going past and found 80 used their mobile phone to take pictures of the scene, while driving.
Officers have now written to the owners of all of those vehicles to explain the person driving the vehicle at the time was found to be committing an offence.
Mr Gray said the force had taken the decision not to prosecute the motorists in a bid to educate them about the consequences of using a mobile phone while behind the wheel.
During the accident, the motorway was closed for 11 hours.
"We were astonished to see so many motorists using their mobile phones to capture an image of what was a horrific collision," said Mr Gray.