Northampton flash flooding closes town centre roads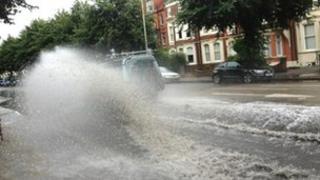 Heavy rain and storms resulted in flooding in Northampton town centre.
The downpours caused surface water of up to 8ins (20cm), Northamptonshire Fire and Rescue said, leading to problems on roads and for businesses.
Bedford Road, a main route into Northampton, had to be closed between Cheyne Walk and Cliftonville for three hours during rush hour.
The Grosvenor Centre, Northampton's main shopping centre, closed from 16:00 BST while staff mopped up.
Terry Smith, Northamptonshire Fire and Rescue group manager, said: "The water on the roads made it difficult for vehicles to pass and we've had drainage problems with water coming into people's cellars."
MoMos bar on Abington Street, Northampton, said it may have to close for a month after the drains on its roof garden started to overflow and water came down the stairs.
Lauren Douglas, an employee at MoMos, said: "We noticed that the inside of the bar was flooding with about two inches (5cm) of water. We couldn't catch it fast enough."
"It got to the point at which people had to take their shoes off."
The two caravan sites at Billing Aquadrome and Cogenhoe Mill, which had flooding problems in May, were not affected by the flash floods.