Wellingborough stags garden makeover for foster family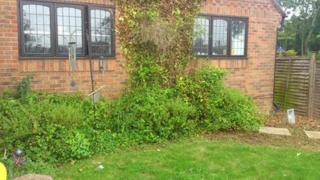 When Neale Tidd announced to his friend that he was getting married in September, it was up to Barney Felce to come up with a way to celebrate.
Mr Felce had to organise something for 20 stags - all tradesmen - to do on 18 August, but instead of the traditional night out in Blackpool or Brighton, he opted to give something back to the community.
The group decided to roll-up their sleeves and create a sensory garden at the home of the Beesons, a foster carer family in Wellingborough.
It is hoped the garden will help the couple's 19-year-old foster son Aaron who has Wolf-Hirschhorn Syndrome.
"I thought it would be nice to do something that would give Neale some nice memories but also help someone out as well," said Mr Felce.
Ruth and Kes Beeson support children who need respite care as well as taking care of Aaron, who is physically and mentally disabled.
'Donate time'
Mrs Beeson said: "We are over the moon that Barney and his team chose us."
The idea came from Mr Felce after he spent some time working for The Disability Cube, an organisation that provides day care for adults with disabilities.
Mr Felce was helping to refurbish the centre on Roe Road in Northampton when he met Aaron.
"I was so touched by the family and what they go through on a daily basis that I thought what better way than to help donate our time and trade to making a better place for Aaron and the other children who are cared for at this home," he said.
Mr Felce then enlisted the help of Rocket Creative, a public relations company to help them find building materials for the project.
He said: "We all phoned around to various companies to ask if they could donate material and we got a fantastic response."
The group plans to install some disabled ramps, cut back the garden, put in new decking, lights, a water feature and build a sensory garden.
The sensory garden was built near the self-contained bungalow where Aaron lives in his foster parents back gaden because the smells are supposed to be therapeutic for his condition.
"Aaron responds to sensory stimulation, he likes light and music, so when he is in his room he will still be able to experience the garden," said Mr Felce.
The Beeson family are really pleased with the result.
Mrs Beeson said: "Aaron and the other children cannot wait to sit in their new garden and celebrate, and neither can we."