Northampton Borough Council considers altering water fountain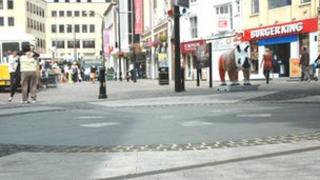 Experts are looking for ways to alter a water fountain in Northampton to prevent it becoming infected with bacteria, the borough council said.
The fountain, located in the market square, was switched off last week after "higher than normal" levels of legionella were found in the water.
The bacteria and traces of E.coli were found during routine tests.
The Health Protection Agency said so far there were no reported cases of infection.
The bacterium legionella pneumophila and related bacteria are common in natural water sources such as rivers, lakes and reservoirs, but usually in low numbers. It can cause lung infection or pneumonia.
Northampton Borough Council has not specified the amount of legionella found in the water.
The fountain will stay off for the next two weeks for further tests, according to the borough council.
Councillor Tim Hadland, cabinet member for regeneration, enterprise and planning, said: "We have asked an independent expert to suggest improvements to the water feature and whether there is anything else we can do to further reduce the likelihood of this happening again.
"We are now going through a process of disinfecting the fountain and will be testing and re-testing the water quality so we can feel confident to switch it back on again."
The fountain was built in 2010 and cost £98,000.