Northampton Borough Council bacteria fountain stays off until 2013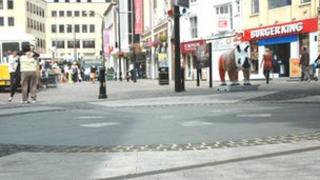 A fountain which was turned off in Northamptonshire because traces of dangerous bacteria were found in the water will stay off until 2013, the borough council said.
The fountain, located in the market square, was switched off in August after levels of legionella were found.
Experts were brought in to find ways to prevent it becoming infected in future.
The borough council said the fountain, normally switched off in the winter, will stay off until April.
David Mackintosh, leader of the borough council, said: "We think there may need to be structural changes made to the fountain.
"We want to work out what happened, why it occurred and what we need to do to make it safe in the future."
The fountain was built in 2010 and cost £98,000.
The council said it normally switches the fountain off for the winter in October but the results may not be back until the end of the year.
The bacterium legionella pneumophila and related bacteria are common in natural water sources such as rivers, lakes and reservoirs, but usually in low numbers. It can cause lung infection or pneumonia.
Northampton Borough Council has not specified the amount of legionella found in the water.