Egyptian statue sale 'could threaten Northampton museum future'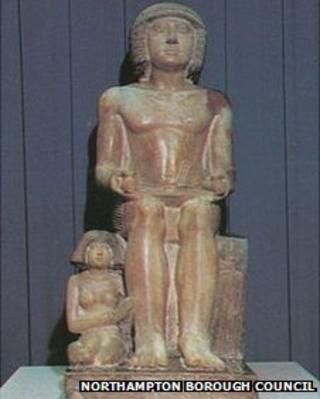 The sale of a £2m Egyptian statue to raise money for projects in Northampton could jeopardise a museum's future, its supporters say.
Northampton Borough Council wants to sell the statue of Sekhemka and use the money to improve Delapre Abbey.
The Conservative-run council said the artefact was not a "key part" of Northampton's heritage.
Gunilla Loe, from the Friends of Northampton Museum (FNM), said it could mean the museum losing funding.
She said: "Any sale has to stick to the code of ethics set out by the Museum Association.
"If the council uses the money from the sale for anything other than a project for the museum then it could lose its accredited status and access to vital funding."
The FNM said Northampton Museum and Art Gallery had achieved its accredited status because of its notable shoe collection and it had benefited from £1.7m in grant funding from organisations like the Arts Council.
'Very concerned'
"We have set up a petition against this sale because we are very concerned about the future of the museum," said Mrs Loe.
Opposition Labour councillors have also asked the borough council to think again about selling the statue.
Labour leader Terry Wire said: "The people of Northampton have not had the chance to discuss whether the sale would be a good idea."
The statue, a court official which dates back to 2500 BC was donated to the museum by the Third Marquess of Northampton.
Brandon Eldred, cabinet member for community engagement, said the statue did not help to tell the story of the town's history.
He said: "We have been consulting with the Museum Association for a while, making sure that we cover its codes, guidance do everything correctly.
"We are confident that we are going the right way and hopefully it won't affect accreditation status.
"Delapre Abbey is our key heritage project and this money would give it a real boost, as well as giving us the opportunity to invest more in our nationally-recognised shoe and leather heritage collection," he added.
The sale will discussed at a council meeting on 12 September.