Northamptonshire NHS trust uses webcams to see patients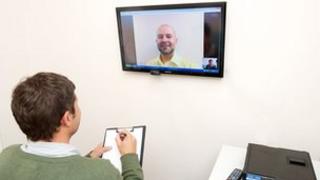 Patients in Northamptonshire are being given the opportunity to speak to a doctor via webcams.
Doctors in Kettering are using Skype video calling software to speak to some patients in one of the first projects of its kind in the UK.
NHS Northamptonshire Trust said people with attention deficit hyperactivity disorder (ADHD) or Aspergers were being seen using the technology.
The trust said it allowed the patients to be seen more frequently.
So far, 30 patients are using the service but the trust said more people were being added on a daily basis.
Missed appointments
Kobus Van Rensburg, a consultant clinical psychologist at the trust, said: "Having the option to have video-consultations from home gives our clients the opportunity to remain in the setting where they feel safe.
"It also means that they are able to have an appointment outside the standard team hours of 09:00 - 17:00 as there is no need to book a clinic room for this."
The pilot scheme which has been going since May could be extended to other patients if it proves successful.
The government has been encouraging hospitals to use more innovative ways to cut down on up to 250,000 missed appointments.
Other hospitals such as Newham University Hospital, in east London, have started seeing diabetes patients who do not need a physical examination via Skype.