Northampton council's decision to sell £2m Egyptian statue reviewed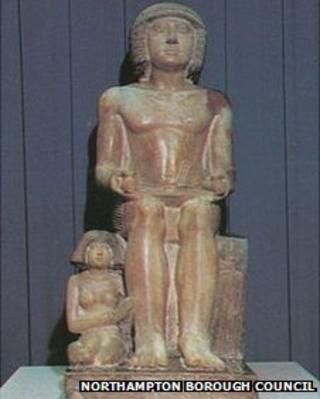 Councillors have agreed to think again about the sale of an Egyptian 2400 BC statue, discovered to be worth £2m during an insurance inspection at Northampton Museum.
On Wednesday, Tory-run Northampton Borough Council's cabinet made the decision because the statue was not a "key part" of the town's history.
But the Labour group has called for it to be looked at further.
The sale plan will now go before the council's scrutiny committee.
'Consultation on plans'
Labour Councillor Terry Wire said the decision to call plans in gives everyone a chance to have their say.
"We want consultation to take place to give the Friends of Northampton Museums and the general public the opportunity to have their say," he said.
The sale was opposed by the Friends of Northampton Museums.
The cabinet on Wednesday night had agreed to sell the statue, called Sekhemka, subject to the expected sale price being achieved.
The council has said it wants to use the money to improve the historic Delapre Abbey.
It is thought the statue was acquired by Spencer Compton, the second Marquis of Northampton, during a trip to Egypt in 1850 and presented to the museum by his son 20 years later.