Corby candidates in Kettering Hospital 'downgrade' row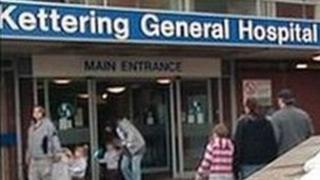 A row has broken out between Corby election candidates over the future of a hospital amid claims it could be downgraded in a healthcare review.
Labour candidate Andy Sawford said Kettering General Hospital could lose services as a result of the review.
But the claim has been dismissed by the Conservative and Liberal Democrat candidates as scaremongering.
Tory candidate Christine Emmett said she had received assurances about the future of the hospital.
Jill Hope, who is standing for the Lib Dems, said Labour was simply "frightening people".
Labour has raised concerns after an NHS consultation began into the organisation of five hospital and clinical commissioning groups, in Northamptonshire, Milton Keynes and Bedfordshire.
The hospitals included in the review are Kettering - which is used by people living in Corby - Northampton, Milton Keynes, Luton and Dunstable, and Bedford.
The review looks at the option of providing "specialist centres for some services where this will improve quality".
It says all five sites would continue to provide accident and emergency and midwifery-led maternity services, but says high-risk maternity deliveries could be centralised in three units.
'Totally irresponsible'
Mr Sawford said the latest consultation has "two models for a way forward".
"Both models set out a downgrading of accident emergency and maternity services and child services," he said. "I am determined save our local services."
But Mrs Emmett said: "The hospital is not going to close. The accident and emergency department is not going to close. The maternity services are not going to close.
"I have this information from two health ministers and the secretary of state for health."
Mrs Hope said said: "I think this [Labour's claim] is totally irresponsible. It think it is a terrible thing to be doing.
"People locally are frightened by what's been said."
The NHS told the BBC Kettering General Hospital would not be downgraded.
The by-election was sparked by the resignation in August of sitting Conservative MP Louise Mensch.
Mrs Mensch, who won the seat at the 2010 general election, announced she was standing down for family reasons.
A date has yet to be set, but the by-election will almost certainly be on 15 November to tie in with the police and crime commissioner elections.