£50m Northampton University scheme approved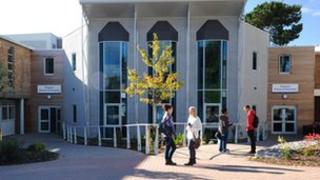 A £50m scheme to improve and expand the University of Northampton has been given the go-ahead.
The finance package has been agreed between the university, Lloyds Bank and the European Investment Bank.
It will help fund a new hall of residence with 475 student bedrooms on a 1.2 acre site on St John's Street in Northampton.
It will also fund a refurbishment of Simon Senlis and St Johns House halls of residence.
The project also includes work on the Newton, Sulgrave, Fawsley and Cottesbrooke teaching buildings.
Prof Nick Petford, vice chancellor of the University of Northampton, said: "We currently have around 1,500 overseas students and 3,000 first year students, the vast majority of whom are keen to secure residency in University accommodation.
"This increasingly high level of demand has really stretched our existing facilities, so we are particularly delighted to have secured the necessary funding from Lloyds Bank to commission the build of an additional hall of residence."