Northamptonshire PCC election: Call for more visible policing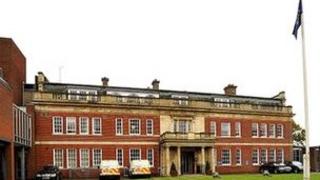 Candidates to become the police and crime commissioner (PCC) for Northamptonshire have outlined ways to increase visible policing at a time of budget cuts.
The 2012-13 budget for Northamptonshire Police is £120.55m - which is £2m less than the 2011-12 budget.
The service has to make savings of £20m over four years.
There has been a loss of 107 police officer posts as Northamptonshire Police looks to make savings to meet budget cuts.
However, not all of the staff losses are down to redundancy, some people have moved to new jobs and their positions have not been filled.
'Territorial police'
UK Independence Party candidate Jim MacArthur said: "I am absolutely determined that I will increase police to a minimum to provide public safety.
"I will find the finance to ensure sufficient officers are available for front-line duty in the county, starting by investigating how to free front-line staff from doing back-office functions and where practicable axing non-essential personnel."
Independent candidate John Norrie said: "My view is that front-line police and safer community teams have to be protected. Whatever else we do we must keep them.
"There is little doubt that neighbourhood policing, along with response teams, form the backbone of local policing as recognised by the public."
Conservative candidate Adam Simmonds said: "I want to explore how to put more officers on the beat. I am looking at Special Constables and talking about police reservists who could be called up like the Territorial Army.
"If we had an extra 500 to 1,000 people in Northamptonshire to come out when needed."
Liberal Democrat candidate Paul Vansverry said: "I am a huge support of the safer community teams. They have been a fantastic way of gathering intelligence and addressing anti-social behaviour.
"I will be focusing on front-line policing and I do aim to increase front-line policing. We do need more police on the streets."