Northampton's lift tower lit up in red, white and blue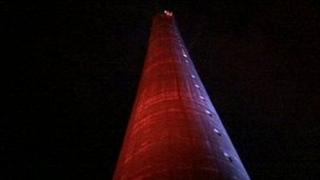 The National Lift Tower in Northampton has been lit up in red, white and blue to mark 30 years since its official opening by the Queen in 1982.
The tower is 127m (416ft) tall and is the UK's only research, development and test tower for lift companies.
From dusk until late into the evening, the tower was cascaded with LED lights.
The display was provided by Stage Right Productions Ltd and the cost was met by Northampton Borough Council and the National Lift Tower.
David Mackintosh, leader of the council, said: "The landmark tower can be seen for miles and we wanted to mark this historic anniversary during the Queen's Diamond Jubilee year."
The tower is taller than St Paul's Cathedral in London and was built by the Express Lift Company.
It was given a Grade II listing in 1997.