Billing Aquadrome caravan park flood victims in emergency centre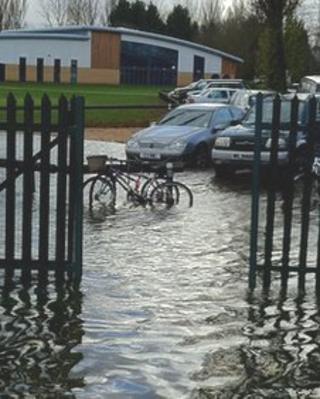 Residents who had to leave their homes when heavy rain in Northamptonshire caused flooding have spent the night in emergency accommodation.
About 60 of the 1,000 people who had to leave Billing Aquadrome caravan park on Thursday stayed at the Lings Forum leisure centre in Northampton.
The Aquadrome is one of seven areas of the county still covered by flood warnings from the Environment Agency.
Others remain in force for several stretches of the River Nene.
Peter Angelides, business development director at Billing Aquadrome Holiday Park & Showground, said the park had been evacuated on the advice of the Environment Agency.
Holiday home owners and guests were advised to return to their residential addresses.
'Dedicated volunteers'
Those who had nowhere to go were put up in the leisure centre.
Edith Wesley, British Red Cross senior service manager in Northamptonshire, said: "Our team of dedicated volunteers are working hard to help people at the centre who had to leave their homes.
"We are supporting people emotionally, as it is a distressing time. Since residents can't get access to the park, we have also been helping those who have had to leave behind vital belongings which they need in their everyday lives."
River levels are expected to remain high for several days.
Andy Wilkinson from the Environment Agency said: "Although we're hoping river levels don't get any higher, it does all depend on the weather.
We'll be monitoring this closely over the next few days and issuing warnings as necessary."