New £330m university campus planned for Northampton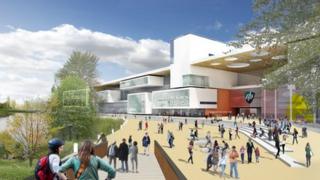 A new £330m university campus could be built in Northampton's Enterprise Zone on derelict land.
The University of Northampton has agreed a deal to move its Park Campus, in Kingsthorpe, to the Avon Nunn Mills site along the River Nene.
Peter Mawson, of the West Northamptonshire Development Corporation (WNDC), said the Waterside Campus would have "economic benefits".
The university has four years to submit plans and find funds for the project.
If the scheme goes ahead, building work could start in 2015 and be completed by 2020.
Professor Nick Petford, vice chancellor of the University of Northampton, said: "This new Waterside Campus will place us in the heart of the community."
The WNDC had issued a compulsory purchase order (CPO) to buy the whole site in March 2012.
'Momentous agreement'
But it withdrew the CPO for the 49-acre (20-hectare) site after owners, Avon Cosmetics, Taylor Wimpy UK Ltd and Persimmon Homes Ltd, reached an agreement with the university.
For allowing the university to build on the land, Taylor Wimpey and Persimmon would be given plots of land at the Park Campus in Kingsthorpe to build houses on.
A spokesperson for Taylor Wimpey and Persimmon said: "We will be doing everything we can to see the dream of the new campus becoming a reality.
"We are committed to the economic growth of Northampton and look forward to working with the university."
Peter Mawson, WNDC's chief executive, said: "This is a truly momentous agreement for Northampton. Avon Nunn Mills has been largely derelict for over a decade, but we now have certainty that it will be redeveloped.
"Clearly, the university campus would have huge economic benefits for the town and beyond."
The university has four years to come up with a plan and sort out the finance.
If that fails, developers Taylor Wimpey and Persimmon would have 12 months to submit their own scheme which could see a mixture of offices and houses built on the site.