Northampton town centre to get a £50,000 facelift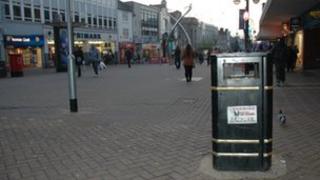 Northampton town centre is to get a £50,000 facelift in the hope of attracting more people into shops and businesses.
The funds will be used to tidy up the streets, including cleaning pavements and replacing rubbish bins and benches.
Northampton Borough Council leader, David Mackintosh, said he wants the town to be "somewhere where people want to spend time".
Work is expected to start in January.
The Conservative-run authority and Northampton's Business Improvement District (BID) organised the project.
Mr Mackintosh said: "When you look around the town, you can see that the rubbish bins are a bit untidy, the street furniture could do with a lick of paint and there is chewing gum on the pavements.
"Times are tough for all towns, but we are working hard with our partners to create conditions where business can invest and grow and make our town somewhere people want to spend time."