'Impatient drivers' putting lives at risk by undertaking road cleaners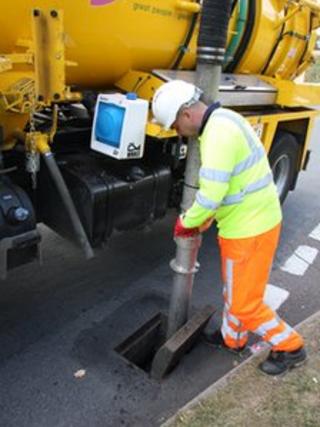 Street cleaners in Northamptonshire say lives are being put at risk by vehicles which are mounting the pavement to undertake their trucks.
MGWSP, which is hired by the county council to maintain roads, said "impatient drivers" were illegally passing workers clearing drains.
It said it would pass the registration plate details of offenders to police.
"Lives are being put at risk, not just of our workers but pedestrians using the footpaths," a spokesperson said.
The company said it had noticed the problem over the past few weeks, as fallen leaves had blocked drains.
There are about 120,000 drains in the county, MGWSP said, and the crews worked "all hours" to keep them clean.
"Motorists are able to overtake the vehicles but need to be patient," the spokesperson said.
"The actions of some drivers [are] dangerous and does not get them past any faster."
The company said no incidents had been reported of anyone being injured by cars passing the drain cleaning vehicles.
MGWSP said it was working with Northamptonshire Police to tackle the issue, but the force has yet to comment.