Roses battlefield: Tenders put out for conservation plan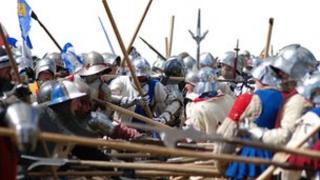 The site of a decisive battle in the Wars of the Roses in Northampton is to become a protected area.
Northampton Borough Council is inviting tenders for a contractor to formulate a Conservation Management Plan for a section of Delapre Park.
The battlefield is undefined at present but is believed to be where artillery was used for the first time in Britain.
Sports clubs had been interested in using the land for pitches and training areas but it is now to be conserved.
The Battlefields Trust has campaigned for the survey of the 85-acre site for many years.
But the actual battlefield area has yet to be identified.
Never fully explored
Artillery was used for the first time in warfare during the battle between the Houses of York and Lancaster in 1460.
Bodies of soldiers are buried there and the position of a rare battlefield fortification is yet to be discovered.
The Battlefields Trust believes any decision on laying pitches and building facilities should be made after a survey and an evaluation of the site's historical significance.
Northampton Saints rugby and the town's football club are keen to use the land at Eagle Drive.
The successful contractor will look at what should be done to conserve and protect the battlefield site.
'Significant event'
David Mackintosh, leader of Northampton Borough Council, said: "We are lucky to live in a town that is steeped in history, and we are very proud of our rich heritage.
"The Battle of Northampton was a significant event, not just in our town's history but as part of the story of our nation.
"As part of the discussions about the land at Eagle Drive we decided that not enough had been done in the past to recognise the importance of the battlefield site."
He added the conservation plan would help them to understand the "significance" of the site.