Daventry's Mulberry Place project could begin in 2014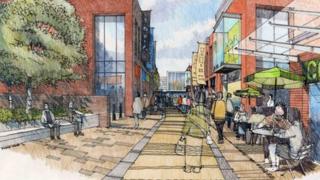 Work could begin on a £50m retail development in the centre of a Northamptonshire town by January 2014, developers said.
The Mulberry Place Project would include a shopping centre, cinema and library to the north of the High Street in Daventry.
There are also plans for a supermarket and a petrol station in the west of the town.
Henry Boot Developments Limited said the project could be completed by 2016.
The company submitted an outline planning application to Daventry District Council, following a six-week public consultation.
David Anderson, managing director at Henry Boot Developments Limited, said: "We invested nearly £4m on the plans, which shows our commitment to working with Daventry District Council to revitalise the town centre."
Daventry District Council said the plans were expected to be discussed in February 2013.