Flooding disrupts train services in Northamptonshire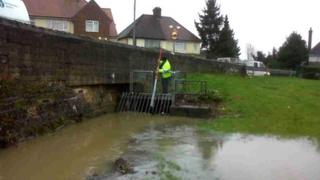 Flooding caused delays on railway lines in Northamptonshire following heavy rainfall that also left several roads under water.
Crick Tunnel near Northampton was flooded causing delays to passengers for most of the day, Network Rail said.
There were also delays for trains between London and Birmingham. Roads remained open, despite surface water.
A flood warning and four flood alerts remained in place in the county, the Environment Agency said.
Network Rail said train services were slowly getting back to normal.
The flood warning was issued for Cogenhoe Mill caravan park, near Northampton.
Flood alerts were for the middle Nene between Cogenhoe and Wansford, Harpers Brook near Corby, the River Tove in the south of the county and parts of the Welland Valley, the agency said.
Northamptonshire Police said Bridge Street in Geddington near Kettering and Harborough Road in Braybrooke had been flooded.
About 1,000 residents from Cogenhoe Mill caravan park and Billing Aquadrome, in the Nene Valley, were forced to leave their homes in November, after both parks flooded.
More rain has been forecast for the next few days.