Wellingborough jail shuts but reopening 'not ruled out'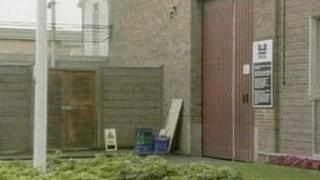 A prison for up to 600 inmates has closed despite a campaign to keep it open led by a local MP.
Northamptonshire's Wellingborough Prison officially shut on Friday after looking after offenders for 49 years.
The government announced in the summer it would shut and Peter Bone MP began a campaign to keep it open.
It first opened as a borstal in 1963 and held young offenders until 1990 when it became a training prison for men with accommodation for 600.
The Department of Justice deemed the building to be outdated and too expensive to run.
For the past few months, existing prisoners have been transferred to other jails across the country along with staff members.
Mr Bone said he hoped the closure would be temporary.
Prisons minister Jeremy Wright hinted back in October that he would not rule out reopening the prison in the future.