Pet dog Buddy reunited with owner after Yardley Gobion crash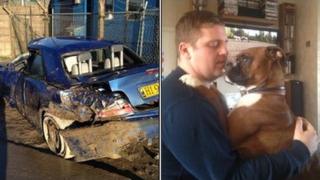 A dog which escaped its owner's car when it crashed into a ditch has been found after an online campaign.
Joe Nixon was driving with boxer Buddy in Northamptonshire last Sunday when he lost control avoiding another car and suffered concussion.
He was distraught when he came to and realised his "best mate" had vanished.
A tearful Mr Nixon said it "restored his faith in humanity" that so many helped him find Buddy, who turned up a mile from the crash site days later.
'Worst nightmare'
Mr Nixon, who has had 12-month-old Buddy since he was seven weeks old, had frantically searched the unlit A508 at Yardley Gobion at night, calling his name.
"My worst nightmare was that he had been flung from the car," he said.
"When I was sure he had escaped, I worried he was in a field, lost, curled up in a ball and would just stay like that and wouldn't be found.
"I was petrified."
The 29-year-old mechanic from Wellingborough had to abandon the search when he was taken to hospital, but the story of Buddy's plight soon spread.
Nurse Sharon Richards spoke to Mr Nixon and put Buddy's photo on the Horse Watch website, aimed at preventing rural crime.
"Within half an hour of me getting to hospital, the picture was on the group website, it was on Facebook, Dogs Lost, a rescue home's site.
"It totally restored my faith in humanity, it's not often you hear of such kindness.
"So many people care, people I've never met."
'Let me in'
After being discharged, Mr Nixon returned to the crash site on New Year's Eve and New Year's Day and walked for miles, all in vain.
But at 02:00 GMT on Wednesday, the landlord of the White Hart pub in Grafton Regis, near the crash, rang Mr Nixon to say that Buddy had turned up at a nearby house.
"Their dogs were barking and Buddy was just staring at the door as if to say, 'let me in'," said Mr Nixon.
"I went round there straight away.
"He was very confused but his tail was wagging and he's certainly on the mend now.
"He's my best mate, I don't know what I'd do without him.
"If it wasn't for everyone's help, he'd still be out there."
Mr Nixon said he would arrange a night at the White Hart as a thank you to those who helped find Buddy.