Olympic fraud dancer Stephen Moonesamy loses appeal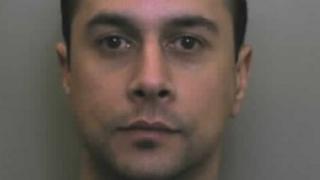 A fraudster jailed for tricking children into thinking they would be dancing at the Olympics closing ceremony has lost his sentence appeal.
Stephen Richard Moonesamy, 36, of Lowland Close, Northampton, was jailed for two years for fraud in July.
He appeal was on the basis that his two-year sentence was "manifestly excessive".
But Court of Appeal judges ruled it was a proper sentence and dismissed the case.
Moonesamy, who admitted fraud when he appeared at Northampton Crown Court last year, had approached dance schools for help.
Seventy-five pupils, aged nine to 19, paid £60 each to take part and started rehearsals believing they were to take part in the Olympics ceremonies.
Sentencing him, Judge Sylvia De Bertodano said he had "dashed more hopes than Simon Cowell" and that it was "hard to imagine anything further removed from the Olympic spirit".
Several companies donated merchandise and he appeared on radio and television to publicise the project.
A 10-year-old child gave up the chance to join a vaulting squad and 16-year-old Nicoletta Winter, from Wellingborough, postponed an operation on her spine to take part, the court heard.
The fraud emerged when those involved contacted LOCOG and were told that Moonesamy had no connection with London 2012 or the closing ceremony.