Northamptonshire gritters out on icy roads overnight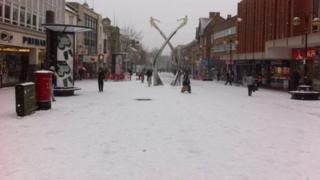 Gritters with snow ploughs were out on Northamptonshire's icy roads overnight as temperatures stayed below freezing.
Roads were reported to be relatively quiet as motorists stayed at home. Northampton Town Centre was also less busy than usual.
Emergency services were kept busy but no-one reported major incidents.
Dr Steve Dykes, deputy medical director at the East Midlands Ambulance Service, said crews are geared up for dealing with heavy snow expected on Sunday.
The county remains on amber alert which means everyone should "be prepared" for up to 4ins (10cm) of snow.
Light snow has been reported in parts of the county and the effects of the past 24-hours of low temperatures are still being felt.
Northampton and Daventry councils both said staff had been assessing the conditions and had decided they could not collect rubbish.
Signalling problems
They would be trying again on Monday, a spokesman added.
Council workers have been gritting pavements in Northampton by hand.
A signalling problem caused disruption near Bletchley on Saturday with delays of up to 30 minutes between Watford Junction and Northampton.
Virgin trains on the Midland Mainline are also experiencing cancellations as well as delays and passengers should contact them for latest information.
First Bus said all services were operating as normal and Stagecoach has made a few timetable changes because of the conditions.