Northamptonshire weather: Schools closed after snowfall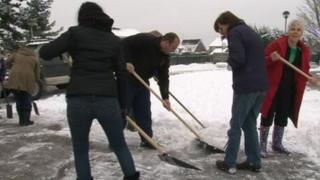 About 170 schools across Northamptonshire have been closed because of snow and icy conditions.
The county council has cancelled its home-to-school transport service and social care help services for Monday.
All Tresham College and Northampton College campuses in the county are also closed.
The council said decisions to close individual schools were being taken based on local conditions.
Gritting crews completed seven runs on Sunday and Monday as snowploughs were fitted to the lorries to shift the heavy snow that swept the region.
The Highways Agency said: "Road users are advised to take extra care when travelling due to the increased risk of adverse driving conditions.
"Drivers are also advised to plan their journey before they set out, to check the forecast and road conditions."
Where conditions prove to be poor and a journey is unavoidable, drivers are asked to leave extra time or to consider delaying their journey if the weather becomes severe.
Burst pipe
In Northampton's Greyfriars bus station, a burst pipe caused a water leak.
Northampton Borough Council, which owns and manages the bus station, said water was being swept away and that buses were running as normal.
The weather has also disrupted bin collections in the county.
South Northamptonshire Council said there would be no waste or recycling collections on Monday.
Kettering Borough Council said black bins were being collected and if conditions allowed grey bins would be collected later.
However, blue and red recycling boxes were not being dealt with.
The council said people should still put bins out on their normal collection days, and that contractors would catch up as soon as possible.
Northampton Borough Council said it hoped to make collections as normal, but that there would be no brown bin collections on Monday.