Arthur Brumhill murder: Forensics hope in pet shop killing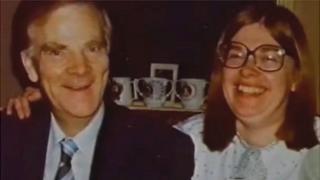 The detective who led an investigation into a pensioner's "brutal" murder at a pet shop 20 years ago hopes forensic advances will now trap the killer.
Arthur Brumhill's body was found with blows to the head in Wellingborough Road, Northampton, in 1993.
Northamptonshire Police said it was awaiting results on new tests being conducted on the evidence.
Retired Ch Supt Bob Thorogood said he was hopeful a new "significant lead" could be gathered from the findings.
The 76-year-old was found dead in the basement of the former pet and garden centre where he worked part-time on 21 January 1993.
Police said the previous evening an eyewitness saw what he thought was the shopkeeper and another man, who looked like a friend, in the shop.
They said he was in his teens, about 5ft 5in (1.7m) tall and had "mousey-brown" hair.
'Significant changes'
At 08:30 GMT the next morning a shop assistant arrived, finding Mr Brumhill's body with several heavy blows to the head, the force said.
Police believe Mr Brumhill had let the person in as there had not been a forced entry into the shop.
A tyre lever, similar to a crowbar, and a small amount of money were taken in the incident. It is believed the killer escaped through an upstairs window.
A number of arrests were made at the time, but nobody was charged.
Mr Brumhill's daughter Sue Blake said: "Not a day goes by when I don't think of him and the brutal way his life was ended."
Mr Thorogood, who appeared on BBC Crimewatch in 1993 and is aiding new investigations, said: "There are significant changes in the way forensic technology has developed over the years and some things that we couldn't do in those days they can do now.
"I'm quite hopeful that they'll be able to produce something that really does develop a significant lead in this case."
Mr Thorogood said the case was of special interest to him, as he had once worked with the victim, and despite years passing he hoped people would come forward with new clues.
"No detective likes to have an unsolved case and this one that, because of the violence and because of the fact that it was slightly personal, has stayed with me," he said.