Northampton's £2m Egyptian Sekhemka statue to be sold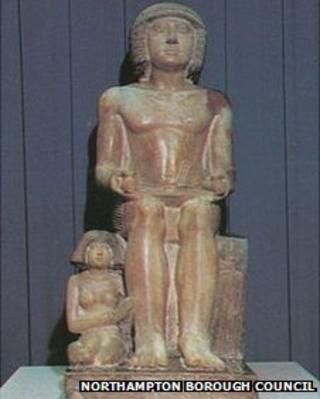 A 4,000-year-old Egyptian statue will be sold by Northampton's museums service, a council has decided.
The statue of Sekhemka, owned by Conservative-run Northampton Borough Council, dates from 2400 BC.
Some local people opposed the sale, claiming it could lead to the council being discredited by the Museums Association.
After a public consultation, the council said any sale money would be re-invested in other heritage services.
The council said 173 people took part in the consultation and 71% wanted the money reinvested in the town's museum and art gallery.
Brandon Eldred, council cabinet member for community engagement, said: "This would be a fantastic investment in our new Cultural Quarter and would enable us to better tell the story of our town.
'Wider audience'
"We recognise that the statue of Sekhemka is a valuable asset and appreciate that it is a significant Egyptian artefact.
"However, we care strongly about Northampton's culture and believe this is the right way to enable us to invest more in bringing the very best of our heritage to a wider audience."
The council's plan was to reinvest any money raised in Northampton Museum, Abington Park and Delapre Abbey.
The borough said it would now consult with the Museums Association and Arts Council England on whether an auction was the best way forward, subject to the statue reaching its reserve price.
It is thought the statue was acquired by Spencer Compton, the second Marquis of Northampton, during a trip to Egypt in 1850 and presented to the museum by his son 20 years later.