Ritz venue keeps name over door in row with hotel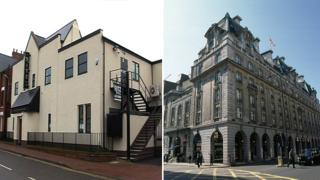 A Northamptonshire wedding and conference venue has been allowed to keep the Ritz name over its door in a dispute with the famous hotel.
The Ritz in Desborough has used the name since the 1930s but was informed in December that it faced the threat of legal action from the London hotel.
Its business name would change to Banqueting and Conference Suites at the Kettering Ritz, owner Kris Malde said.
Its web address will change too but the Ritz name will remain on the building.
Mr Malde said he was "really pleased to be able to get on with running the business".
'Ultimate manifestation'
He had said last month that he could not justify the potential cost of any court action surrounding the name of his hotel in Desborough.
The business's domain name will change from theritzuk.co.uk to ketteringvenues.co.uk, and the Berkeley suite, a wedding or conference room for up to 100 people, will be renamed the Mayfair suite annexe.
The Ritz in London has a Berkeley suite, which has a marble floored lobby, sitting room, two bedrooms, two bathrooms, a study and a pantry and is described on its website as "one of the ultimate manifestations of the Ritz experience".
The Piccadilly hotel's solicitors had written to Mr Malde in December to say they were concerned about the web address and the use of the trading name The Ritz.
"Our clients cannot allow their trademarks to be used without consent," it added.
The Ritz Hotel, which first opened in 1906, said it was unable to comment.