Queen 'made of rubbish' at Northampton exhibition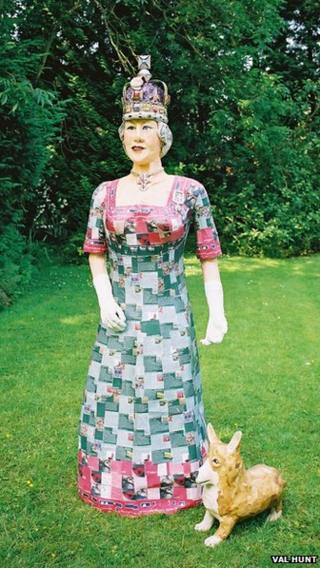 A life-sized model of the Queen and one of her corgis made from recycled rubbish is the centrepiece of an exhibition in Northampton.
Artist Val Hunt's Reincarnated Rubbish is on show at Northampton Museum.
The "creative recycling artist" used plant pots, carpet and old leaflets to make the models, and tin cans for the Queen's Coronation crown.
"I even used old false teeth. The Queen has the top set, and the corgi the bottom ones," she said.
The Coventry-based artist said she was inspired to make the model during Jubilee celebrations.
'Auntie Eileen's teeth'
"You wouldn't know to look at the Queen, or my other pieces, that they are made of old rubbish," she said.
"It's not at all blatant. It's all very subtle."
Mrs Hunt uses materials including drink cans, takeaway containers, computer parts and babies' dummies.
"People leave bags of rubbish on my doorstep because they know I can use it," she added.
"I found an old set of false teeth in a bag once and I thought, 'Oh that's horrible', then I thought better and knew I could do something with them.
"Someone told me they were their Auntie Eileen's teeth.
"So now the Queen, who's smiling, and the corgi, who's snarling, have Auntie Eileen's teeth," she said.
Mrs Hunt said she hoped her exhibition - which features about 200 pieces including jewellery, wall hangings and a life-sized elephant's head - would inspire people to "give rubbish a second chance".
"I hope the exhibition opens people's eyes so that next time they throw something away, perhaps they will consider what else might be done with it," she said.