Northamptonshire dinner lady, 75, vows to continue job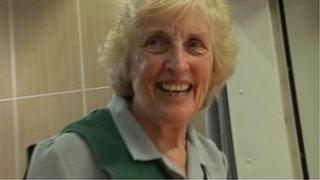 A dinner lady who has worked at the same school in Northamptonshire for almost 50 years has said she will carry on for as long as she can.
Julie Barrick, 75, has worked at St Luke's Primary in Duston since 1965.
Mrs Barrick, who started work as a cook in the school kitchen, said: "I might have thought about leaving, but frankly, they won't let me go."
Head teacher Sue Edmonds-Phelan said: "Julie has such a wealth of experience I don't think we could let her retire."
'Lunch bunch'
Mrs Barrick said: "In those days it was very different as we did everything from scratch.
"We peeled all the potatoes and made pastries and pies by hand, getting our meat from the local butcher.
"It's very different now as a lot of food is brought in, but they still have lovely lunches and puddings."
Mrs Edmonds-Phelan said staff referred to Mrs Barrick as the "elder statesman" of the school.
"She's a great grandmother and her own children and their children came to this school as well," she said.
The children refer to the catering staff as the "lunch bunch", she added.
"That very much reflects the family atmosphere of St Luke's.
"Julie has a kindly word and smile for everyone, and they all absolutely love her."
Mrs Barrick said she loved working with the school children, but said they were very different from children in the 1960s.
"Today they are very confident. Back when I started they were shy, and I think that's because often they didn't go to nursery school first. I think that has made a big difference," she said.
Although she could have retired 10 years ago, Mrs Barrick said she had continued in the job because "they won't let me leave, will they?".
"Anyway, I think my husband is quite glad to have me out of the house for three hours every day," she added.