Corby Cube flood: Councillors hold meetings in canteen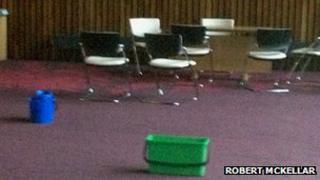 Severe weather in Northamptonshire has caused a flood that has driven councillors out of a meeting chamber.
Water is seeping through the ceiling of the council chamber in the Corby Cube from the roof-top garden creating criticism from opposition members.
Councillors are holding meetings in the canteen while repairs are carried out.
A spokesman for Labour-run Corby Borough Council said minor repairs or "snags" were being repaired and one of the issues was the roof garden.
"Considerable progress has been made in regards to snagging within the Corby Cube," the spokesman said.
'Unfit for purpose'
"However there is still an outstanding issue with the rooftop garden that has come to light due to the recent spells of heavy rain and snow, and which has resulted in slight leaking in the council chamber.
"We are currently holding meetings in the bistro area of the building and are working to ensure the issue is resolved as soon as possible."
Conservative councillor Robert McKellar said: "This is yet another problem at the Corby Cube."
The final cost of the Cube has not been revealed and an independent report into the project is expected to assess the final bill at about £47m which is £12m over budget.
Mr McKellar said: "The release of the auditor's report into what went wrong is massively overdue.
"This really does need to be published so that Corby's taxpayers can know the truth about how £47m of their money came to be spent on a building that is so defective and unfit for purpose that it does not even keep its occupants dry on a rainy day."