Jobs go as Northamptonshire County Council cuts £33.6m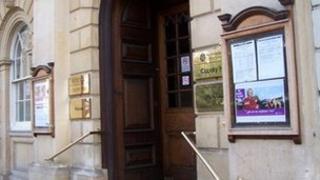 Up to 150 full-time posts could go at Northamptonshire County Council as part of the of a package of £33.6m of cuts in its 2013-14 budget.
The £437.9m revenue budget has been agreed by the cabinet and goes before the full council on Thursday.
The budget freezes its part of the council tax.
Children's social care is hit by a £3.65m cut while £420,000 goes from Northamptonshire Fire Service budget.
Leader of the Conservative-controlled council Jim Harker said: "When we launched our four-year framework last year, we promised to freeze council tax, to make further back-office savings and find new ways to work in partnership to help save money even further.
"We made a commitment to continuing to support the county's growth and prosperity and to providing services where people can't help themselves."
A spokesman for the county council said the fire service savings would be made through closer co-operation with the Warwickshire Fire and Rescue Service.
He added: "The budget proposes a redesign of children's social care services with a more specific focus on targeted prevention services.
"The review will aim to protect qualified social worker posts where possible."
The budget will be presented to the next meeting of Full Council on Thursday 21 February.