Margaret Thatcher 'battle bus' sells in Towcester auction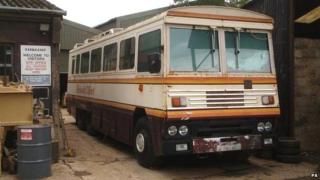 An armour-plated "battle bus", believed to have been used by former prime minister Margaret Thatcher, has been sold at auction in Northamptonshire.
The 28-tonne bus was thought to have been built in the 1980s for a visit by Mrs Thatcher to Northern Ireland.
The blast-proof bus has armour-plated glass and was thought to offer protection from chemical attack.
The buyer, a private collector who paid £16,940, is said to believe it is an "investment of recent social history".
Bidding for the bus at JP Humbert Auctioneers in Towcester on Thursday evening opened at £9,000.
'Turns on a sixpence'
Auctioneer Jonathan Humbert said: "It's gone to a private individual, someone by all accounts who has a few weird and wonderful vehicles and a few acres in which to use them.
"He believes it to be a sound investment of recent social history.
"It's not an attractive vehicle by any stretch of the imagination, but it's something that has a tale to tell so he's the proud owner of a 28-tonne Margaret Thatcher battle bus."
The bus, which can hold 35 passengers, has just 28,000km (17,398 miles) on the clock and it has its own auxiliary generator and air supply in case anyone attacked it.
It also has a Foden chassis, a body by Glover and Webb and is powered by a 12-litre Rolls-Royce engine. Interest in the bus was expressed from around the world, but it will stay in the UK.
"I hold a licence so I actually drove it here from the vendors," said Mr Humbert.
"I'm please to report it does 65mph (105km/h) and unlike the great lady herself the bus is certainly for turning.
"In fact it turns on a sixpence even though though it's got three axles and run-flat tyres, so if they got shot at they'd continue to roll on."
Mr Humbert now plans to drive the bus to the collector.