Middleton Cheney: 1,000-year-old building site bones reburied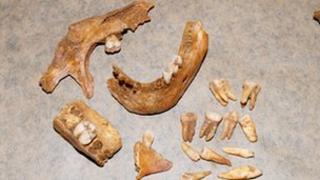 Human remains discovered on a building site in south Northamptonshire, which were found to be more than 1,000 years old, are to be reburied.
Site workers in Main Road, Middleton Cheney, discovered the remains of a man, woman and infant, in December.
Police said carbon dating had established the remains dated from between the 7th and 9th Century.
The parish council said the bones would be buried in the village cemetery, once a memorial stone had been carved.
Archaeologists believe the remains of the three people may be a family. Police said the bones included an infant aged up to two.
The woman was older than 45 and the man was aged between 35 and 45.
A spokeswoman for the parish council said: "We have contacted the developer who discovered them and they have agreed to pay for a memorial to be made to mark the grave - the stone is being provided by J&M Humphris of Banbury [funeral directors].
"The parish council will provide a burial plot and will cover the cost of the interment.
"The stone is likely to take three months to prepare and at the end of this it is hoped that we will be able to bury the bones in the cemetery - there is not expected to be a formal ceremony but the occasion will be marked by the councillors and any interested villagers."
Before the bones are reburied, they will be studied by pupils at the local high school Chenderit School, who will look at the reports by the police and carbon dating experts.