Northamptonshire child protection: Lowdown agency could close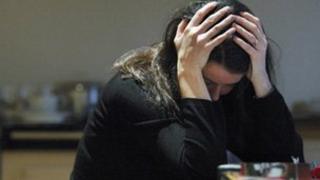 A youth counselling service that helped 10,000 young people in Northamptonshire in the last year will close in June unless £120,000 funding can be found.
The Lowdown in Northampton, established nearly 25 years ago, claims cuts and the recession will force it to shut.
The agency, which relies on the NHS for £34,000 and donations for the rest, is looking at other sources of finance.
It says funds are drying up when it is busier than ever, with GP and social agency referrals at an all-time high.
"In the wake of a highly critical Ofsted report into Northamptonshire County Council's protection for vulnerable children, what we offer is more vital than ever," director Dawn Wright said.
The Lowdown said it had an important role to play in the proposed multi-agency approach that was shown in the report to be failing in the county.
The agency claims it had no funding from the county council for six years, yet received referrals from them.
Behavioural difficulties
The Ofsted report said a lack of resources had an adverse impact on services for children and on fully implementing the county council's multi-agency safeguarding hub (MASH).
Ms Wright said young people came to the agency because they knew of its work in schools, colleges and libraries.
Many of the young people and children they helped had mental health problems, behavioural difficulties, depression, anxiety, eating disorders or self harmed.
"We are open six days a week and at weekends and they do not need referrals. GPs, the county council and other agencies use our services," she said.
The county council had pledged to strengthen MASH and had appointed Kevin Crompton as chair of the local safeguarding children's board.
Claiming budget share
He was formerly chief executive of Haringey Council where he helped improve children's services following the death of Peter Connelly, also known as Baby P, in 2007 after social workers missed signs of abuse.
"The frontline of safeguarding is to have everyone vigilant," he said. "That means schools, police, health visitors and others looking for signs.
"It also needs clear process with senior staff from the agencies at a single spot so they can act quickly when incidents are brought to their attention," he said.
The Lowdown said it was seeing about 1,000 young people a month and was delivering in areas where Ofsted had identified county council failings.
They were therefore making a case for a share of the children's safeguarding budget which is currently £780,000.