Kettering Regeneration: Back yard plan for crafts and shops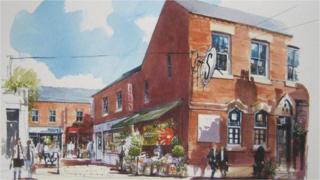 A derelict back street yard in the centre of a Northamptonshire town could be brought back to life as a centre for art and crafts shops.
The Yards behind Market Street in Kettering contains a disused ambulance station and a former car workshop.
Developer Kevin Jones said the area was ripe for regeneration but it could cost up to £1m.
Chris Lamb, responsible for planning in Kettering, said the scheme would fit in with council plans for regeneration.
Mr Jones said he envisions the large ambulance station becoming a small business or workshop incubation unit with shops.
The garage he sees as being turned into a themed restaurant with the outside space providing a forum for musicians and artists.
A planning application had been submitted which could see the development taking shape within months.
"But I'm not being tied to a timescale. This development is for the people of Kettering and if it takes 18 months or two years I am not worried."
Attracting private funds
Mr Lamb said much work had already gone into developing shop fronts and upgrading nearby streets.
"This is an exciting plan for an area that has been neglected for too long.
"We've been successful in developing shop fronts and for every penny of taxpayers money we have spent we have matched it with funding from the private sector.
"We're working hard to bring the town centre the people of Kettering deserve and this development fits our plans."