GP proposal for Kettering Hospital A&E department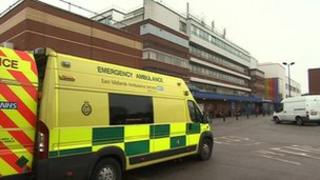 A family doctor could be appointed at a Northamptonshire hospital's accident and emergency department under a plan to free up resources.
A meeting between senior officials at Kettering General Hospital and local MPs saw the idea suggested.
Hospital managers say many people attending the accident and emergency unit could be treated by a GP.
Andy Sawford, Labour MP for Corby, said the idea could free up frontline staff for genuine emergencies.
'Demand too great'
Speaking after the meeting, he said: "In other hospitals in the region, like Northampton and Milton Keynes, I know that the GPs work more closely with accident and emergency to make sure that patients who need seeing by a doctor are, and those that need to go into A&E are seen there.
"At the moment, too many people are walking across the threshold at Kettering A&E and, frankly, the demand is too great.
"We need to find a way to make people get the appropriate care whether that is in the hospital or with a GP."
The hospital is yet to comment.
A new three-storey £30m wing of the hospital is due to open on Saturday.
The future of the hospital was a major theme of last year's by-election campaign.
It followed fears the hospital could be downgraded as a result of a review into the organisation of five hospital and clinical commissioning groups in Northamptonshire, Milton Keynes and Bedfordshire.
Hospital management say the review of services is ongoing, but the new unit will improve healthcare provision.